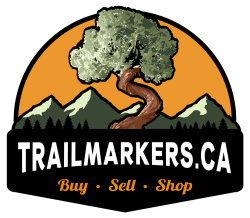 At Trailmarkers we sell patches, decals, pins, tees, hoodies and hats and other unique stuff primarily for the motorized outdoor enthusiast market. Any artwork sold on this site is typically amateur-produced fan fiction and fan art, no association with copyright holders are implied unless otherwise noted.
Sign up for a customer account, and you can earn Trail Points good for freebies and swag like limited-edition decals! Earn badges for accomplishments and check your progress on the leaderboard with your squad! 
Sign up for a vendor account if you are a club or Facebook group that sells your own stuff. We can host your club's swag here for FREE – not only will you get a larger audience, but you can build your own storefront and take advantage of our larger marketing power! View our plans here and create a free Lite account to begin – no credit card necessary. When we make a sale here of one of your products, the customer pays us, then we transfer payment to you via Paypal or Interac email transfer. If you want to increase the number of products you sell, you can move up to a Standard or Pro plan.
Want to fundraise for a good cause? We can help with that with no Trailmarkers fees! Christmas hampers? Feed or clothe the homeless? Kids camp? Hell yeah. GoFundMe can provide a free fundraising option if you want to only take donations. But if you want to sell goods to fundraise, open a free Fundraiser account and we will help you sell your products for your fundraiser!